Hello, I'm Alan.
Entertaining has been a passion and joy of mine for as long as I can remember. Whether it's been behind the decks or treading the boards on the stage, the sheer enjoyment of seeing others having a good time is a feeling that has always thrilled me as much as a good old-fashioned rolacoaster.

This thrill, mixed in with a love of all aspects of the music world, led me to starting Disco-Tech. At the age of just 13 I was lucky enough to have my first 'gig' as a mobile DJ at Willesborough Windmill in Ashford. From the moment I pressed play that night, I knew that this is what I wanted to do. Now, nearly 20 years later it's still what I love doing!
Whatever the occasion, we're here to help.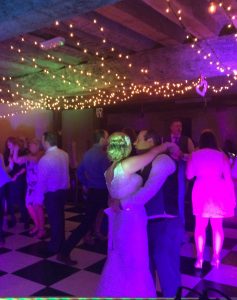 Founded in 2003, we have been providing mobile discotheque entertainment to Weddings, Birthdays, Corporate Events and Parties across Kent for nearly 20 years. Our DJ's offer a personalised and friendly service and pride ourselves on the quality of our presentation and our attention to detail – We want your evening to look good and sound great!
Since humble beginnings in 2003 where rented equipment got us through our early years, we have continually researched and invested in high-end audio and visual equipment to serve our private and corporate clients alike. This has enabled us to build our own extensive (and ever-expanding) library of equipment which we now use to construct the perfect solution for your evening.
As standard we operate a multitude of equipment setup options to suit your events individual needs. In the run-up to your evening, your DJ will talk to you about which setup will work best for your venue, your guests and of course you… However, you can rest assured that all of our setup's share the same common commitments to quality – They Sound Great and They Look Great.
We know from experience that the key to your evening being a success isn't just based on the equipment that your DJ arrives with or the extent of their music catalogue (The phrase 'all the gear and no idea' comes to mind). This is why we have worked hard to complete our superb equipment stock and extensive music library with trained DJ's and entertainers who are committed to make your evening a success.
When you book your evening's entertainment with Disco-Tech we promise to provide you with DJs who will:
Arrive On Time
We'll arrive on time and perform dressed in our smart company uniform.
Be Professional
We'll behave in a polite, professional and friendly manner at all times.
Listen To You
We aim to play requests as soon as possible so that you're not left waiting for your favourite songs.
Respect Your Evening
We will only ever talk over the music where it is necessary to do so. The rest of the night is yours to enjoy without interuption.